While I Troll Online For Franchise Industry Statistics To Use In My Marketing Research, I Continue To Find Information From Industry Experts Leading Franchisor's Down The Wrong Path!
Today I reveal Evidence Franchise Marketing Experts are Missing the Mark and How You are Being Fed Strategies That are Losing You Qualified Franchise Buyers!
Let me be clear, the article I am referencing below does a nice job outlining the importance of online marketing. Unfortunately some critical pieces of the strategy are sorely outdated and will have you spinning your wheels and wondering where the new qualified buyers are for your efforts.
If you want to show qualified franchise candidates you "Get" Online, you better know the fatal flaw in the analysis below! When you can't trust an industry leader like franchise.com to deliver up to date franchise marketing strategies, who can you trust? Hint, hint…I know what's wrong with the marketing advice below!

Before I reveal the Evidence Franchise Marketing Experts are Missing the Mark – you might want to know a little bit about where the Huna Marketing authority in online market domination comes from. Here is a little slice of the marketing science behind all the Market Domination Strategies we employ for our clients…
Franchise Development in 2014: Show Candidates You "Get" Online
Online reviews, smartphones, and social media are not passing fads. Can they be useful to your franchise recruiting and development efforts? Or are these things just distractions from the true work of sales and recruiting, and best left to the marketing department?
We believe that effective management of your online presence, including social media, is a critical component of your franchise development strategy. Why? Because there is no better way to illustrate that your organization knows how to get found and manage customers at the local level, where it really counts.
Gathering customer insight has traditionally been a marketing function, but your franchise development team cannot afford to be out of the loop in regard to socially driven customer intelligence. Look at it this way: The cash register is one stream of data, but there are many other data streams you can leverage to improve your franchise recruiting and provide your candidates with certainty that you "get" today's consumer.
The most prominent of these data streams are the online reviews that are now available to everyone through Yelp, Google, Facebook, Angie's List, and many other sources. Being able to see and understand what your customers think about your products, services, and employees at the local level is the ultimate leg up for successful development – if you put this data to use.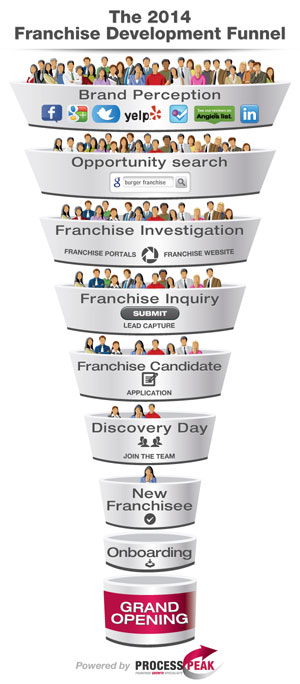 According to the 2013 Nielsen Global Trust in Advertising Survey, online reviews rank third for trust, behind only personal references and branded sites. The Nielsen survey also found that 84 percent say they are likely to take action on recommendations from people they know, followed by consumer opinions posted online (70 percent), ads served in search engine results (57 percent), and ads on social networks (55 percent).
Successful franchise development hinges on proactive validation; what a candidate discovers before completing your lead generation form.
We are witnessing a massive shift in consumer buying behavior. The smartphone is a recommendation engine that everyone is carrying in their pocket. Sure, but what does this have to do with recruiting franchisees? Well, would you rather buy a two-star cupcake or a five-star cupcake? The same logic applies when people are shopping for franchises.
Branding and advertising are customer-focused functions that belong to the marketing department. But your candidates are watching, too. They notice if your brand is connecting and engaging with prospective customers. And to do that and compete effectively, your brand must now be prepared to:
Optimize local directories – to get found
Monitor reviews at the local level – to be in the know
Respond appropriately – to illustrate you care
Leverage customer insights throughout your organization
Illustrate to candidates you know what it takes to be successful in 2014
When your brand executes well on these five bullets, your candidates see that and know that: 1) you're going to help them connect with prospective customers in their location, and 2) that you do other things right, too.
If you want to be seen as a brand on the move in 2014, then show up as one. Demonstrate to your customers and candidates that your brand gets it.
– See more at: http://www.franchising.com/articles/franchise_development_in_2014_show_candidates_you_get_online.html#sthash.ozJuBxLY.dpuf
Great article, right?
So, what is so wrong with the expert advice that got me worked up enough to write this article?
It's the fact that Franchise.com authorities and almost every other so called marketing expert on the planet are two years behind when it comes to online marketing. It is reality that technology is changing our world and how we interact with it at record pace. Online Marketing is no different. The advice and tactics most marketers and consultants are recommending and using today are "me too" tactics.
Most marketing advice today comes from stuff marketers see that has worked for other markets, know their clients are behind the times and encourage them to jump in to catch up. Unfortunately by the time marketers take notice of the swelling trend, the tide has already shifted.
Today, every one and their brother… 99.9% of agency level marketing firms, so called marketing specialists and consultants down to the kid who just jumped online today peddling his brand new marketing business are looking at what is and defining their strategies based on the majority rule.
In 2014, heck, in 1999, by the time the trend was obvious, it was obsolete!
Technology has caused the speed of marketing shifts to accelerate exponentially!
The major flaw in the strategy of my esteemed colleague above is that monitoring and responding to reviews is not only a defensive measure, it is already a commodity in the marketplace. Nothing gets to be a commodity if it is leading edge marketing. It is so outdated it's value is minimal and dare I say even detrimental.
Detrimental because reputation management, which is what review monitoring and responding is, is now relegated to a fraction of the reputation strategy needed for today's changing online marketing environment.
You must be on the offense if you want any value out of your online review strategy. Not only be on the offense but know how to strategically market your franchise to attract qualified franchise buyers. A complete reputation marketing strategy is the single most important piece of marketing any business can do today.
It is so important to your business today that we have given our proprietary Reputation Marketing Strategy top billing with every single client we work with. If, after an in depth consultation, a prospective client doesn't get the value, we don't take the client for any business.
I can guarantee you, unless you are working with someone in our group, you are losing business right now because of your reputation strategy.
That "guarantee" isn't just a clever statement. It is a policy! I guarantee that if you get on a call with us and you feel like your reputation strategy is more valuable than what I recommend for you, I will pay you $2500 for your time!
That is right. I am so confident that what we do will get you more clients I can guarantee it.
I know, that unless you are already utilizing our proprietary reputation marketing strategies you are leaving money on the table…lot's of it. I know this because every other marketer on the planet is still talking about reputation Management, PPC and SEO. Nothing else matters more to your bottom line than a strategic Reputation Marketing Industry Domination program.
In fact, any other marketing you are currently doing will also significantly improve once you get this right.
… I know you get bombarded daily with dozens of offers for the latest and greatest "new marketing thingy". I make my guarantee, not only because I am secure in our ability to get you more qualified buyers, but because I want you to know right off that we are not offering a "shiny object". Our strategies are leading edge – the competitors will start knocking on your door talking about our strategies in 6 months or a year from now.
By then, we'll be leading a new wave.
Contact me now…I'll share with you the entire strategy.
If you are not completely blown away, if can't don't see your franchise sales increase from our strategies and feel like I've wasted your time…I will give you $2500 for your time!
To Your Total Market Domination!
Fran